Why Build a Retaining Wall in Washington IL
If you have an incline in your yard, you may be frustrated over what you know could be pitfalls. Non-level yards often have many issues that aren't noticeable until you've lived in the home for some time. Or, if you've just recently purchased a home and have concerns about massive slopes in your yard, you may want to talk to a professional to see if they may cause problems. At Mobeck Lawn & Landscape, our recommendation will likely be to add a retaining wall to your yard. For a retaining wall in Washington IL, call us. We'll design a yard that brings you pride while protecting your investment.
The Benefits of a Retaining Wall
Retaining walls are a helpful piece of hardscaping that add both form and function to your yard. They are truly a beautiful addition to your property. Yet, it's the functionality of the wall that makes them so beneficial to a home on an incline. Here are just some of the benefits you can expect from adding a retaining wall to your property:
Flooding prevention – Retaining walls are built to direct water flow. They will prevent flooding at your property's lowest points and keep your home protected from flood damage.
Soil protection – When your land slopes and heavy rains hit, your soil may be negatively affected. Soil erosion can occur, which creates problems for your landscaping and, potentially, your home's structure.
More space – A yard's incline may not be usable. The addition of a retaining wall, however, can create stunning new spaces for your property. Many homeowners use retaining walls to add attractive new landscaping details, which creates even more visual interest for your home. Plus, it can create an oasis for you, the homeowner.
It's beautiful – Retaining walls are designed from any number of materials, like boulders, stone, bricks, or concrete. The aesthetics of a retaining wall will make your home the envy of the neighborhood.
There are also different types of retaining walls to consider, which is why you should trust a professional. Whether you need a standard retaining wall to hold soil back or something with more reinforcement for your steep yard, Mobeck Lawn & Landscape can design it. When you need a retaining wall in Washington IL, you can trust that we have the experience and know-how to build the perfect wall for your needs.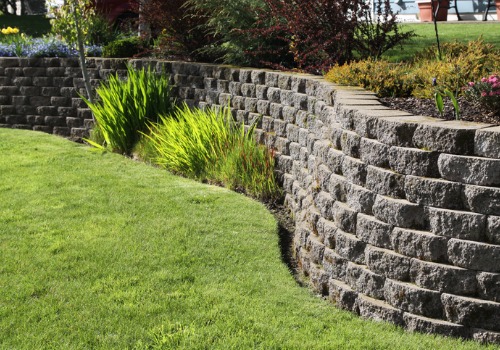 Additional Services from Mobeck Lawn & Landscape
Mobeck Lawn & Landscape are also experienced at a variety of services that ensures your yard is at its best year-round. In addition to our hardscaping design and installation services, we are your lawn care experts. We offer core aeration for a fuller yard, fall and spring cleanup services, and mulch installation. In winter, call us first for snow and ice removal. We're your go-to resource for your property's greatest outdoor needs.
Get a Quote for a Retaining Wall in Washington IL
When you're in need of a high quality, trustworthy retaining wall in Washington IL, trust the work of Mobeck Lawn & Landscape. Contact us at 309-989-4496 to request an estimate for any of our services. We look forward to building a lawn that makes you proud.