Snow Shoveling Have You Stressed? Find Snow Removal Service in Washington IL
While ice and freezing temperatures are enough to wear anyone out, there's nothing more stressful than waking up to learn you've been snowed in. Now it's a matter of pulling out shovels or trying to get your snowblower started in freezing temps. Or, if you plan ahead, Mobeck Lawn & Landscape can already be on our way to provide snow removal service for Washington IL residents!
Why Consider Professional Snow Removal?
While shoveling your driveway isn't overly complicated, it can cost you time and strength you otherwise don't have. And if you own property with roadways or parking lots, there's significantly more work to accomplish after a heavy snowfall. Instead, you can allow the professionals at Mobeck to handle snow plowing for your property.
Best for Commercial Property – Having a professional handle snow removal for your commercial property is the better choice for two main reasons. First, your business is likely to have more area that needs cleaning. And doing so yourself can be too time-consuming or labor-intensive. Second, when concerning the safety of customers or clients, you want to ensure all steps are taken to free your property of ice and snow completely.
On-Call Service – The tricky part about managing snow is knowing when it's going to fall. And being prepared for snow isn't always easy when it chooses to storm in the middle of the night or the early morning hours. Thankfully, Mobeck offers 24 hour, on-call snow removal service for Washington IL. We track local weather patterns, so we're always ready to assist with quick snow removal.
Safety First – At first, you might not consider snow removal to be a dangerous job. However, depending on the weather conditions, temperature and amount of snow, you risk exposing yourself to extreme cold, slipping and falling, or overstraining your muscles. Conversely, Mobeck's experienced team has the skill and equipment necessary for safely removing snow while you can stay comfortable and out of harm's way.
Come Back in Spring!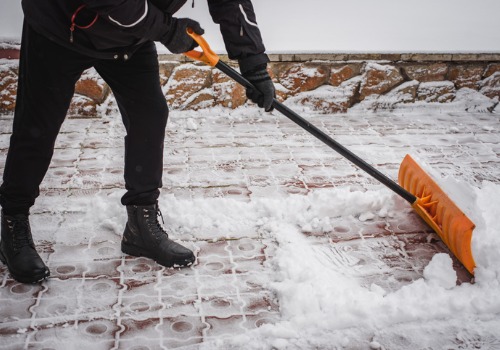 Once winter ends, that doesn't mean the services Mobeck can provide are complete. In fact, the majority of our services are available throughout the remainder of the year! As such, when spring finally arrives, Mobeck Lawn & Landscape can provide:
Talk with Our Team
As snow begins to fall, be sure you have a plan in place with snow removal service in Washington IL. Give the professionals at Mobeck Lawn & Landscape a call today! You can contact us at 309-989-4496 to request a quote. Also, we are located at 437 N Cummings Ln, Washington, IL 61571.