Grow Your Business with Top Commercial Landscaping in East Peoria IL
Mobeck Lawn and Landscape can enhance the look and image of your business with top commercial landscaping in East Peoria IL. Give our landscape experts a call at 309-306-7977 to learn how to grow your business.
Our experts understand that superior commercial landscaping delivers both form and function. Therefore, we listen to your needs and design a solution that attracts attention while also serving a purpose. As a result, you receive commercial landscaping that urges more customers to interact with your property and think about your business for their needs. So, tell us what sort of image you want to project to your customers, and we will help you achieve it.
The right commercial landscaping makes a major impact on attracting and retaining clients for your business. Therefore, you should trust only local professionals with a track record of meeting and exceeding customer expectations. For that reason, contact Mobeck Lawn and Landscape today. We provide A+ rated services that get 5-star reviedws from our hundreds of clients.
Build Your Brand with Commercial Landscaping East Peoria IL
Your business and the building that houses your operations speaks volumes about your brand. With our commercial landscaping in East Peoria IL, we can help you convey the right message. Landscape elements can translate the image you want to project to customers. Whether you want a soothing space with Zen features, geometric plant designs on the cutting edge, or native grasses and wildflowers, we can design and install it. Thus, we help you create a space that communicates your business vision to customers in a way that will keep building your brand.
Create More Customer Engagement with Commercial Landscaping
Our landscape designers consider your business operations and how you want customers to interact with your commercial landscaping in East Peoria IL. That way, we can install solutions that engages customers in a way that grows your business. Some landscape elements encourage consumers to stay longer and linger more in front of your product displays. On the other hand, landscaping can also encourage customers to keep moving along if you need to transition between interactions quickly. Tell us how we can create better customer engagement with your business today!
Direct the Flow of Traffic with Commercial Landscaping
With the best commercial landscaping in East Peoria IL, you can direct customers to where you want them to interact with your business. For example, you can highlight entrance points with attention grabbing plants and trees. Another idea utilizes shrubs and trees to create paths and walkways into and away from your business. For some businesses, the look and aesthetics of brick or stone wall features for walkways and entrances makes more sense. Count on Mobeck Lawn and Landscape to design and install those bold visual elements with landscaping that directs your flow of customers effectively.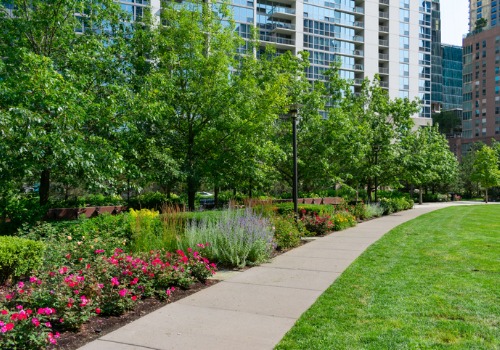 Contact Us for Commercial Landscaping in East Peoria IL
If you are ready to grow your business today, then take the first step by contacting Mobeck Lawn and Landscape. Our experienced professionals are ready to design and install the best commercial landscaping. Call now at 309-306-7977 to request a free quote. In addition, you can get answers to your questions quickly and easily by sending us an email through our online contact form. Also, let us know if we can assist you with other available services including hardscaping, lawn mowing, ice and snow removal, and mulch installation.