Refined Features for Your Property Through Hardscaping in Washington IL
Do you ever see your neighbor's yard with custom walkways and a beautiful patio, and think "how can I get that for my own property?" The good news is it's not hard to find local experts who provide creative design and installation of such features. Mobeck Lawn & Landscape offers hardscaping to Washington IL, and the surrounding communities. Call our team today, and we'll help you discover the best built environmental features to improve the beauty of your property.
What is Hardscaping?
You're sure to have heard of landscaping, but hardscaping is sometimes an unfamiliar term. Essentially, hardscaping is the "less natural" side of landscaping. While landscaping will add trees, flower beds, shrubbery and more to your property, hardscaping focuses on built features that compliment the natural beauty of your property.
Why Invest in Hardscaping?
Most people only think of hardscaping as another set of features to add to their property. However, there are additional benefits to hardscaping that you might not realize at first. For example, hardscaping provides:
Minimal Upkeep – While features like shrubs or flower beds need to be maintained relatively regularly, a hardscape stays relatively the same, sometimes needing cleaning.
More Outdoor Space – Looking to add a new patio to your home for more outdoor seating? Hardscaping is the service you need!
Less Erosion – Depending on where hardscape features are placed, you can create barriers to keep soil erosion at bay.
Water Conscience – Replacing some yard space with built features means less water needs to be used to upkeep the rest of your property.
Hardscaping Features
Mobeck Lawn & Landscape can provide some of the most popular features of hardscaping for Washington IL. Our team of landscaping experts offers creative designs and quick installation for many built environmental features, such as:
Paver Walkways
Fountains
Outdoor Kitchens
Firepits
And More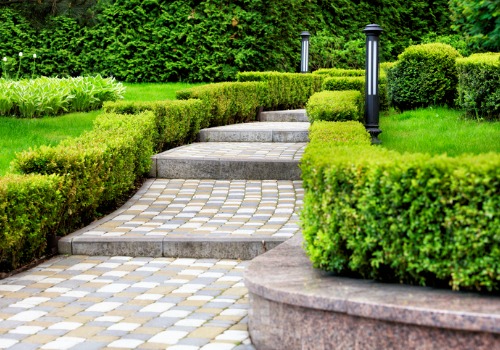 What More Can Mobeck Offer?
Of course, hardscaping and landscaping aren't the only services Mobeck has to offer. We also assist with the general upkeep of properties for homes and businesses. Such lawn maintenance services include:
Call Today
When it's time to make a change for your property, consider hardscaping in Washington IL from local landscaping experts. Call Mobeck Lawn & Landscape today at 309-989-4496 to request a quote. Also, we are located at 108 Wood Ct, East Peoria, IL 61611.