Your Top Choice for Landscapers in East Peoria, IL
Seasonal changes mean changes in your land's needs. Whether it's the icy cold of winter, windy blown fall accumulation, or the growth of spring and summer, Mobeck Lawn & Landscape can serve you. But that's not all we do. We're also a professional landscape company that can design and install a yard you'll love. We have the knowledge and proven experience to be your landscapers in East Peoria, IL.
Mobeck Lawn & Landscape are Expert Landscapers
As spring brings new growth, it's a great time for you to finally get that landscaping you've been dreaming about. Our experienced team can create a backyard paradise out of a blank canvas of a lawn. Or they can reclaim an overgrown backyard in need of revitalization. From design to execution, we will craft a custom design for your home. We have years of experience at hardscaping, too. Even if your land doesn't naturally lend itself to the image in your head, we can create the structure necessary to allow for all we can do.
Mobeck Lawn & Landscape Tends to Your Needs
The cycle of fall allows your landscaping to regenerate. But when spring arrives again, it always needs some tending to do its best. Grass needs the relief of leaf removal so it can still soak in the sun. Extra moisture trapped from standing leaves can drown grass if left long enough. Trees need trimming so they won't break or cause damage during winter snow and ice. Some of your plants may even need to be removed so they don't die in the cold of winter. These are all considerations when choosing a landscaper in East Peoria, IL. Our skilled team is ready to tackle them all.
Mobeck Lawn & Landscape is even prepared to be your snow and ice removal solution during the winter. We have a team on-call 24 hours during those cold months. We'll get your porches, driveways, stairs, and sidewalks cleared and you'll be on your way in a jiffy.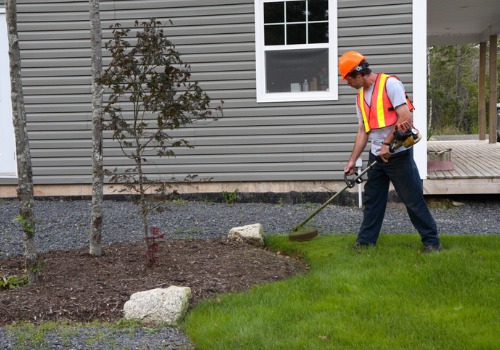 We're Your Choice for Landscapers in East Peoria, IL
Mobeck Lawn & Landscape is the right choice when you need a landscaper. Check out our gallery of work and you'll see why we have a 5-star Google rating and hundreds of satisfied customers. We are willing and capable of turning your turf into an oasis. Our work speaks for itself.
Request an Estimate
Let Mobeck Lawn & Landscape be your new go-to landscaping company. To request an estimate on any of our services, give us a call at 309-989-4496. We look forward to proving ourselves to you!