Mobeck Lawn & Landscape are Your Local Landscapers in Washington IL
We got into the lawn business for a reason. What began as a dream in 2015 with the help of his parents' Pontiac Grand Prix, Mobeck Lawn & Landscape is now a full-service lawn and landscaping company. We chose to build something beautiful within our home communities, and today, Mobeck Lawn & Landscape is proud to be your local landscapers in Washington IL. We feel honored to be able to help our neighbors and fellow community members realize their vision.
We'll Help Your Space Grow with You
Working with you means we get to see you enjoying your outdoor spaces while we drive to our next project. We get to see young plants grow and mature when we come back to help you maintain your lawn as the seasons change. We get to see first-hand how our work affects your life every time you return home to enjoy your outdoors. And that lets us feel connected to our community. When you need local landscapers in Washington IL, we strive to be your go-to resource.
We offer seasonal maintenance services for many reasons. It's because we want you to be able to access your outdoor spaces, even when yards are covered with leaves and walkways in snow. In fact, we believe everyone should experience the beauty of our natural environment without feeling stuck inside. We also know that your family and life will grow and flourish just like the landscaping we install. That's why we appreciate the opportunity to touch base with you when we return to maintain your space. It allows us to stay connected and know how your needs have changed and gives us the opportunity to daydream the next evolution of your space with you.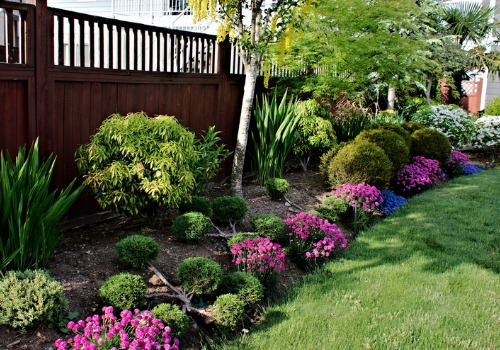 You Can Count on Us
We take great pride in a job well done, that's why we offer a gallery of past jobs for you to browse. Whether you're looking for ideas for landscaping, hardscaping, pavers, or lighting, we have sorted them into project type for ease of review. Sort through all of them to discover new ideas that would fit your space best. We are proud to have over 400 satisfied customers, a 5-star Google rating, and accreditation from the BBB. We can't wait to add you to our list of satisfied customers.
Get in Touch
Give Mobeck Lawn & Landscape a call today at 309-989-4496 to get a quote. You'll be glad you selected us to be your local landscapers in Washington IL.