Call Mobeck for Outstanding Landscape Design in East Peoria IL
You may love your property. Yet seeing your land's full potential can be a big task. That's why we suggest talking to Mobeck Lawn & Landscaping before you make any moves. If you're considering landscape design in East Peoria IL, we're where you should start. Since 2015, Mobeck Lawn & Landscaping has built a name as we've enhanced and shaped the beauty of homes across Central Illinois. We are experts at creating an entire landscape design, then bringing it to life.
We're Your Full-Service Landscape Team
There's more to landscape design than the planning of grass and plants alone. Fortunately, Mobeck Lawn & Landscaping is also able to do hardscaping to enhance your outdoor space as well. Hardscaping is the use of stone, gravel, brick, wood, or pavers to create structure in your landscape. We have the knowledge and insights to plan and install these beautiful structures that will create more visual interest in your yard.
Considering a deck, too? We can plan and build decks, patio, and walkways that are stunning to view. In fact, even if you have a big slope to your yard but you want a level seating area for a fire pit, we can do that too.
In addition, Mobeck Lawn & Landscaping can also turn night into day with our landscape lighting. Light up your pool, deck, or lawn areas to extend your nighttime enjoyment of your yard. Our technicians can install all the equipment you'll need for a 24-hour outdoor area you'll be proud to call your own. When it's a perfectly executed landscape design in East Peoria IL, you can trust it was Mobeck.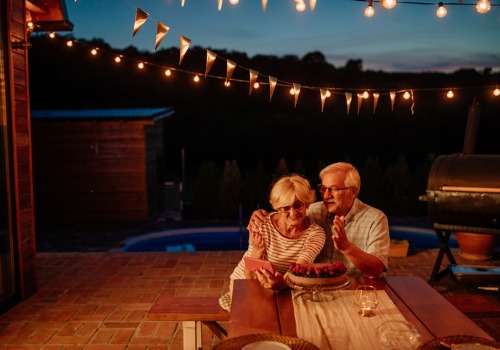 Choose Mobeck for All Your Lawncare Needs
Let Mobeck Lawn & Landscaping be your full-service team for your yard, no matter the season. Whether you're looking for help with overgrowth, regular lawncare service, leaf removal, mulch installation, gutter cleanup, or snow and ice removal, we'll be there as your trusted team, making your yard beautiful throughout the year.
Get in Touch
Ultimately, you need to trust that whoever you hire will be there when you have questions. Mobeck Lawn & Landscaping is readily available to answer your questions. To request an estimate for landscape design in East Peoria IL, give us a call at 309-989-4496. We look forward to building the perfect yard you'll love.