Who to Use for Landscape Design in Washington IL
You may be looking for a great solution for gathering in the yard. Maybe your kids love chasing fireflies and picking dandelions and you want a great space for them to play. No matter your needs, you want your yard to reflect your life. That's why it's so important to make the right choice when looking for a company that does landscape design in Washington IL. You want someone who knows your area and what plants and greenery will flourish there. You want someone who has proven they can handle the job efficiently and professionally. But how do you find that perfect landscaper? You've found the right place with Mobeck Lawn & Landscape.
Why Choose Mobeck Lawn & Landscaping
Mobeck Lawn & Landscaping does both landscaping and hardscaping with our designs. Hardscaping is the use of man-made materials to create structure for the landscaping of your property. Retaining walls, stone patios, and walkways are all part of the hardscaping we design into our plans. One benefit of hardscaping is that you can protect the landscape by creating paths and areas for foot traffic. Another benefit is keeping soil from migrating, so plants don't wash away in heavy rains. Fortunately for you, Mobeck Lawn and Landscaping can even help you maintain your hardscaping with snow and ice removal in the winter and full property leaf removal during the fall.
When you hire Mobeck Lawn & Landscape for your landscape design, we will walk you through the entire process from start to finish. From designing your landscape to executing your vision down to every detail, our team of skilled professionals has everything you need to feel secure and confident in your decision. You need Mobeck Lawn & Landscape on your side when you are searching for landscape design in Washington IL.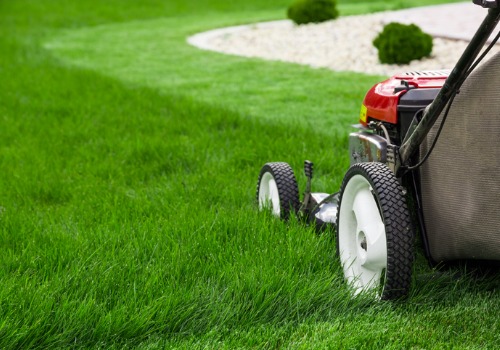 Trust our Satisfied Customers
Mobeck Lawn & Landscaping has been serving the Washington community and Central Illinois since 2015. In fact, we already have over 400 satisfied customers. We are also fully insured and have been accredited by the Better Business Bureau, so you know you can count on us to get the job done right. Mobeck Lawn & Landscaping even has a 5-star Google rating thanks to numerous satisfied customers!
Get in Touch
Whether you want to add new trees to line your property or a stone patio around your pool, Mobeck has you covered. We can even create landscape lighting so you can enjoy your property, no matter when the sun goes down. To learn about all the services we provide, or to set up a consultation for landscape design in Washington IL, get in touch. Give us a call at 309-989-4496 to request an estimate for our services.